For individuals with dementia, human touch plays an important role in promoting overall well-being.
Meaningful touch is an essential part of person-centred care. Research shows that touch such as a hand massage can reduce levels of agitation in a person with dementia for as long as an hour afterwards. It can also strengthen the relationship between family carers and the individual with dementia.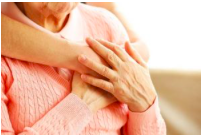 In recent years, there has been a concerted effort to reduce the use of unnecessary medications for individuals with dementia, instead of using non-drug strategies and approaches to improve behavioural symptoms. Human interaction, including skilled touch, has become more widely used as an effective intervention.
Skilled human touch, often in the form of massage, combines medical technology with personal interaction so important for improving outcomes among people with dementia.