Can you see what I see?
By Caroline Hyland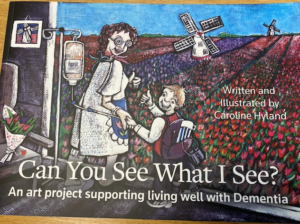 It is rare to come across a book where the illustrations are inspired by situations that you often come across while in contact with a person with dementia. And even more rare that the text alongside the drawing will help you understand what a person with dementia may be going through and provide advice to improve their experience.
The book developed from a solo art exhibition in Tallaght University Hospital in 2017 which was supported and funded by the Adelaide Health Foundation (AHF), The Meath Foundation and National Centre for Arts and Health. After this the exhibition toured to a number of venues countrywide.
In this book it is the 'person' who features first and foremost, pushing the 'dementia' to the background.
"Can you see what I see" is presented in a very accessible format, suitable for adults and children alike. It presents very practical ideas on how to start a conversation with a person with dementia and how to enjoy your time with the person for what they are and live in the present. It helps you to see life through the eyes of the person with dementia and encourages  you to make life simpler, easier to understand and, more fulfilling, eliminating unnecessary complications, detail and noise, both auditory and visual.
Caroline Hyland's book inspires us to see people that live with dementia as valued citizens and to support them to remain engaged, feel included and live well in their communities.
A proportion of the profits from the sales of this book go to the HSE "Living well with dementia" programme.
"Dementia doesn't rob someone of their dignity it is our reaction to them that does." Teepa Snow.
The book can be purchased from the author's website, www.carolinehyland.com
from Alan Hanna's bookshop, Dingle bookshop and Engaging dementia.
All profits go to the Living Well with Dementia programme from HSE, CHO6, Dublin South East. The author herself is publishing videos with readings of the book in the Facebook page of Living Well with dementia HSE CHO6.