In Pursuit of Memory: The Fight Against Alzheimer's disease
Joseph Jebelli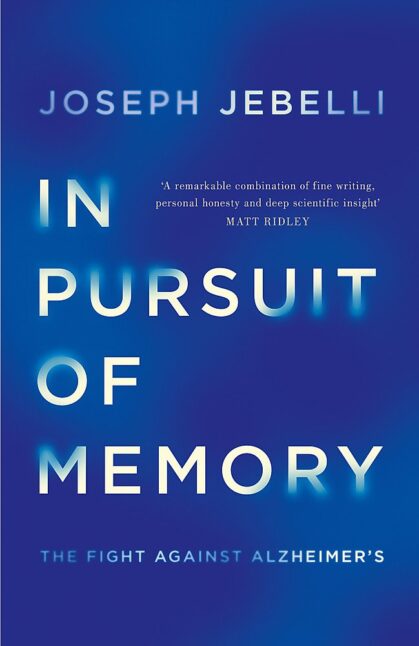 This compelling read is written by Joseph Jebelli a neuroscientist whose grandfather had Alzheimer's disease.  You might be forgiven for thinking this is just another book about a disease – but this book is so much more than that, it's a scientific thriller with a complex protagonist and an author on a 'pursuit' for answers.
Jebelli dives into the brain and brilliantly explains how and why Alzheimer's disease happens.  He takes the reader on a historical toour of Alzheimer's disease from the early 20th century when the German doctor Dr Alois Alzheimer first described the disease, to the changing culture context- a move away from 'fear' and stigma to one of 'hope and understanding'.  It's the author's hope and optimism that jumps from every page – a cautious optimism but one that many readers will find hugely comforting.
In later chapters the author takes us around the globe from Iceland, to Papua New Guinea, India, Japan and Columbia and explores new areas of cutting edge research which could advance our understanding of neurodegenerative diseases such as Alzheimer's disease.
Jebelli maintains that in the absence of a cure our best defence is to understand the disease but he is hopeful that in his lifetime an effective treatment can be found to change the course of the disease.
This is a wonderfully written and very human account of Alzheimer's disease – amid the science Jebelli never loses sight of the true heroes; the people living with dementia, their families and the researchers and scientists who together are 'showing us the correct path'.