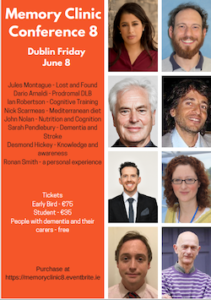 The 8th Annual Memory Clinic Conference took place on Friday 8th June 2018 in the Trinity Biomedical Sciences Institute and was hosted by the DSIDC and Mercer's Institute for Successful Ageing.
Download a copy of the conference programme
The conference explored strategies to prevent dementia and the potential to improve outcomes for the person with dementia and those at risk.  Presentations from the conference are now available.
Welcome
Professor Brian Lawlor: Download presentation
Knowledge and awareness of dementia in Ireland – the journey towards ensuring that we all Understand Together
Presented by Dr Desmond Hickey: Download presentation
How to Intercept prodromal Lewy Body Disorders? The case of REM sleep behaviour disorder
Presented by Prof Dario Arnaldi: Download presentation
Lost and Found: Memory, Identity, and Who we become when we are no longer ourselves 
Presented by Dr Jules Montague : Download presentation
Stroke and Dementia
Presented by Prof Sarah Pendlebury
Mediterranean diet and cognition: epidemiology and mechanisms
Presented by Prof Nikolaos Scarmeas : Download presentation
Xanthophyll Carotenoids and the Brain: A nutritional approach to enhance cognitive function
Presented by Prof John Nolan: Download presentation
The Improbable Effectiveness of Cognitive Training – How to Explain it?"
Presented by Prof Ian Robertson: Download presentation