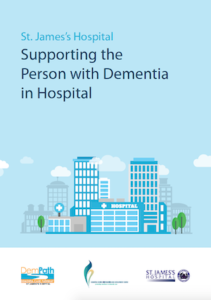 The St James's Hospital DemPath project and the Dementia Services Information and Development Centre are proud to announce the launch of 'Supporting the Person with Dementia in Hospital'  a Handbook for Staff.
This short guide has been written to provide practical information and advice to all staff working in clinical settings caring for people who have a cognitive impairment, dementia or delirium.
How will it be helpful to staff and persons living with dementia? 
Clinical settings can often be challenging and stressful environments for this patient group.  Detailed in the handbook are simple tips and strategies to assist staff to overcome some of these challenges and alleviate distress whilst improving patient experience and comfort.
A copy of this new resource can be downloaded on this website and also through the Understand Together campaign website and National Dementia Office http://www.understandtogether.ie