September is World Alzheimer's Month, an international campaign to raise dementia awareness and challenge stigma. Each year, Alzheimer associations from around the world unite to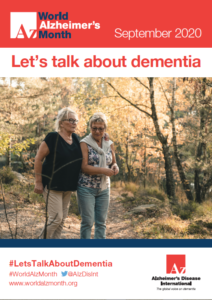 organise advocacy and information provision events, as well as Memory Walks and fundraising days.  The impact of this campaign is growing, but the stigmatisation and misinformation that surrounds dementia remains a global issue. This September is our time for action, when the global dementia family unites to call for and demand change.
World Alzheimer's Month is coordinated by Alzheimer's DiseaseInternational (ADI), the umbrella organisation of Alzheimer associations around the world. Join the campaign!
Visit www.worldalzmonth.org  to see how you can get involved
World Alzheimer Report 2020 Launch Webinar on World Alzheimer's Day 21st September

The World Alzheimer Report 2020 'Design, dignity and dementia' will launch on World Alzheimer's Day at 13.00 BST (London) – 14.00 CEST (Madrid) – 08.00 EDT (New York).
The Report focusses on dementia and the built environment, specifically domestic spaces, care homes, day care, hospitals and public spaces.  If you would like to take part in the webinar please register here to  secure  your  place.