The fifth National Memory Clinic Conference was held on Friday, 27th March 2015 in Trinity College Dublin. Jointly supported by the Mercer's Institute for Successful Ageing (MISA) and Dementia Services Information and Development Centre (DSIDC), the conference entitled "New Directions, New Dimension in Dementia," focused on significant changes to the dementia landscape over the last five years and addressed some of the issues arising out of those changes. A mixture of national and international expert speakers addressed those with an interest in dementia and multidisciplinary staff working in some of the 17 memory clinics around the country covering topics such as the National Dementia Strategy, Neurocognitive Consequences of Sport Concussion, Driving and Dementia, epilepsy and memory loss, brain scanning in dementia, and a proposed national referral system for publicly funded Memory Clinics.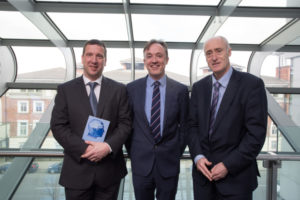 Amongst those addressing the conference was Dr Tony Foley, lecturer in the Department of General Practice in UCC, who was an advisor to the working group for the Irish National Dementia Strategy. Speaking at the conference Dr Foley said, "The National Dementia Strategy, which was launched in December 2014 will be an important guide for government policy over the next few years and a key tool in helping healthcare and community professionals understand best practise when it comes to clinical pathways and guidelines whilst providing better information about community and other supports."
The conference was attended by over 150 healthcare professionals.
Click here to download programme